The Model Garage may have only been a setting in the series but maybe it was also a state of mind. It was a representation of all those small town shops that dotted the American landscape, a place where mechanics such a Gus did their magic.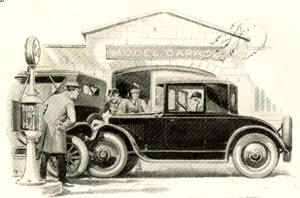 Although only a character in a magazine series, Gus Wilson was, and still is, the mechanic's mechanic. Long before "Click and Clack" of NPR fame and "Mr. Goodwrench" of the GM stable, there was Gus Wilson, major character in a wonderful monthly series in Popular Science Monthly.
Gus was patterned after the small town natural mechanics that were so prevalent in the early days of motoring. He was an honest man who could "figure out" almost any automotive problem that came through the door of "The Model Garage." The shop was the stage for the stories that dazzled young and old alike.
I was one of those "dazzled" readers and I'm still a "Gus" fan. His problem solving techniques and common sense were traits I always tried to emulate. There were times when I thought I had done jobs he would've called his own and it gave me a great feeling of satisfaction..
This site was made to introduce new readers to Gus Wilson and his friends. I think you'll like everyone in and around the Model Garage and agree with me that the heroes of youth should never be forgotten.
Thanks to Don Miller, Mary Viramontes, Dave Mantor and Joe Way for helping make this website possible.
Mike Hammerberg