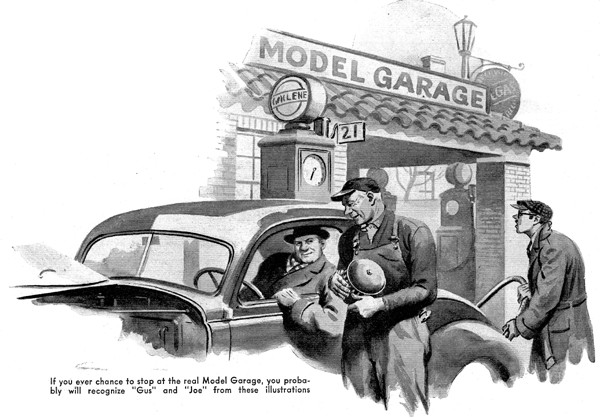 Are Gus and Joe real people -- or did you just make them up? That is the gist of scores of letters I have received from readers of Popular Science Monthly, since I began passing along the nuggets of car wisdom that I get from these two veterans of the garage business.
Let there be no doubt about it -- they're both very much alive! It's true that Gus Wilson, Joe Clark, and their Model Garage are all fictitious names. I had to promise the real, flesh-and-blood "Gus and Joe" to keep their identity secret before they would let me tell you of their experiences. But it won't be betraying any confidence to say that the "Model garage" which they jointly own is situated in a town not far from New York City. "Gus," the veteran automobile mechanic who knows more about the innards of a car than any two other men I could name, bosses the mechanical work, while his partner, "Joe," handles the bookkeeping side of the business. If you ever chance to stop at their garage, quite likely you will recognize them -- for the artist who draws these illustrations knows them personally, and his pictures of them are as true to life as I've tried to make these stories of their experiences.
Gus started in the garage game back in the days before automobiles had windshields, and when the progressive gear shift was the latest thing out. Since then he's worked on pretty nearly every make of car that ever cluttered the road. Gasoline motors are his hobby, as well as his profession, and his worst fault as a practical business man is his reluctance to let any helper take work off his hands. He won't do it, if he thinks he can do the job a little better himself -- and he usually can!
Gus's manners may seem gruff before you get to know him, but he really has only one pet grouch. When he sees a man abusing his car, clashing the gears or slamming on the brakes so hard that the car screeches to a stop, it affects him the same way it would you to see a stupid or cruel driver beating a horse. On the other hand, he's never too busy to drop his tools, sit down beside a man who takes an intelligent interest in his car, get out a greasy pencil and a soiled envelope to draw diagrams on, and tell his customer plenty that isn't to be found in books. As for Joe, he divides his time between poring over his ledgers and admiring his partner's skill.
END